U.S. women's soccer team threatens Rio Olympic boycott over wage inequality
Comments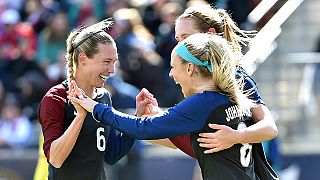 The United States women's soccer team could boycott this summer's Rio Olympics unless their demands for equal pay as the men's national side are met, World Cup winner Becky Sauerbrunn has said.
Sauerbrunn, who was also on the US Olympic women's soccer team which won gold in 2012, told ESPN in an interview the players would not rule out the possibility of a boycott if no progress on the issue had been made by July.
"It would still be on the table," Sauerbrunn said. "We are reserving every right to do so and we're leaving every avenue open. And if nothing has changed, if we don't feel real progress has been made, then that's a conversation that we're going to have.
Sauerbrunn is one of five members of the US team, including veteran captain Carli Lloyd, who filed in late March a discrimination complaint with the Equal Employment Opportunity Commission on behalf of the whole team against the US Soccer Federation over wage disparity.
The 30-year-old defender said she hoped the legal action would put enough pressure on the federation to "show them our worth, our value."
The US women's team earned US$2 million from prize money as a result of their 2015 World Cup victory, which the federation distributed to the players.
That figure was US$7 million less than what the men's team received after being knocked out of the 2014 World Cup in Brazil in the round of 16.
It is understood the women's national team are also only paid just over 40 percent of the men's team's salary.
Female players receive between US$3,600 and US$4,950 per win for their country, while players on the men's team receive US$6,250 to US$17,625 for each game, regardless of the outcome.
"The message they've been putting out by paying us drastically less than the men is that they don't value our contributions to the game as much as the men," Sauerbrunn added.
Rio Olympic organisers are already struggling with lacklustre ticket sales for South America's first Games, and talk of a US women's team boycott has brought additional fears of empty venues when the Olympics begin in August.
With 2012 Olympic silver medalists Japan failing to qualify for the Games altogether, it is expected the potential absence of the world's top female team would seriously detract from the allure of the overall Rio Olympic women's soccer competition.