Ronaldo fills boots and dazes Wolfsburg while City rejoice as PSG weep
Comments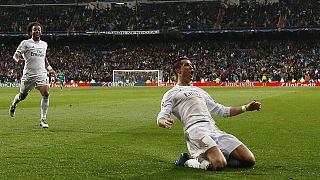 The football world was abuzz on Wednesday with the news that Christiano Ronaldo had scored another champions league hat-trick, his fifth, equalling Lionel Messi, and single-handedly turned around Wolfsburg's two-goal advantage to dump them out of the competition.
While the brilliant Portuguese's contribution could hardly be under-estimated, Real Madrid manager Zinedine Zidane was full of praise for all his players in this season where everything seems possible.
"I'm very happy and very proud about everything they've done tonight. We had a special night, we achieved what we wanted and I'm very happy for the players because what they did together was phenomenal," said Madrid's manager Zinedine Zidane.
Manchester City meanwhile thrilled with their downing of the French champions Paris St. Germain in the battle of the Gulf-funded clubs. City make it into the last four for the first time.
The English Premier League may be beyond them and they face a scrap to be sure of Champions League football next season, so why not win it?
"We receive a lot of criticism for different reasons but I think that we are improving in every year, I am sure it's not easy because there are some very strong teams in Europe but I am sure that the target of this club is to win the Champions League. But not only by winning the Champions League that the project of this club is finished", said manager Manuel Pellegrini.
For PSG it was heartbreak, again missing out on the big prize, and it was perhaps the swansong on the premier European club stage for Zlatan Ibrahimovic, who had publically stated this was the trophy missing from his shelf.