Inky the Octopus: The Great Escape
Comments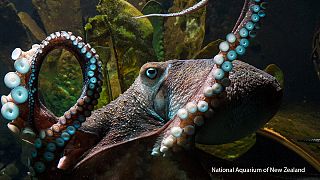 'Enterprising' and 'unusually intelligent' are not words you would typically associate with an octopus.
But Inky, the squishy escape artist, is no ordinary member of his species.
The crafty critter has given aquarium staff in New Zealand the slip with an audacious bid for freedom, swapping the confines of his enclosure for the depths of the Pacific Ocean!
So how did Inky do it?
He spotted an opportunity – the lid of his tank was left slightly ajar with maintenance work going on.
He made a dash for it – squeezing through the gap and then sliding across the floor.
To complete his brazen breakout, Inky slithered down a drainpipe taking him all the way out to sea.
The great escape: Inky the crafty octopus has 'legged it' from his Napier aquarium https://t.co/vylX68hUWZpic.twitter.com/CCr106m3Uo

— WWF-New Zealand (@WWFNewZealand) 12 avril 2016
Where and When?
Inky's 'great escape' was from the National Aquarium of New Zealand in the city of Napier.
It actually happened earlier this year but the slippery customer's sneaky stunt has only just been revealed.
Who is Inky?
The fugitive is described as follows: A male common New Zealand octopus with a body the size of a rugby ball but able to squeeze down to the size of his mouth (the hard part of his body) in order to make a quick getaway.
What does his disappearance mean?
Well it is obviously good news for Inky for whom home is now a Pacific paradise!
But the 'very friendly' octopus is a big miss for aquarium staff and visitors.
He has also left behind a 'tank-mate', named in one report as 'Blotchy'. He is said not to be too upset, though, as these are solitary creatures.
In a way, we shouldn't be surprised at Inky's antics.
Recent studies have revealed just how intelligent an octopus can be!
But Inky is clearly that bit brighter than your average octopus, with his courageous escape from captivity already inspiring the world's most eminent scientists.
In honour of #Inky the Octopus' great escape, have a look at our octopus prints https://t.co/1BmdmJebKdpic.twitter.com/KU7qkpv1NV

— The Royal Society (@royalsociety) April 13, 2016