Ukraine: Tough challenges ahead for next government
Comments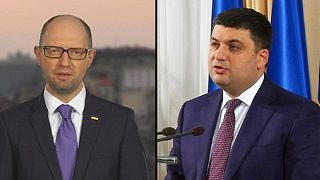 Ukraine is in political turmoil as it seeks to form a new government.
The main focus should be the continuation of the reform process
It follows the resignation of Prime Minister Arseniy Yatsenyuk. His likely replacement is parliamentary speaker Volodymyr Groysman.
It is hoped a new stable coalition will push through reforms and reassure Ukraine's chief backers, not least the IMF.
"Groysman's government will first of all have to focus on the development of the economy and look for economic growth," political analyst Volodymyr Fesenko told euronews.
"The second important issue is to concentrate on social policies. Here, Groysman will have to find a balance between the IMF's requests and the needs of social stability."
Political infighting and corruption scandals fractured the Yatsenyuk administration. If appointed, Groysman, a long-standing ally of Ukraine's President Petro Poroshenko, has a tough challenge ahead.
Ukraine's President Poroshenko is under increasing pressure after PM resigns. https://t.co/kIt9hJDRAypic.twitter.com/xpesr5XlKF

— Financial Times (@FT) 11 avril 2016
"We have to talk about things that have not been done," said Svitlana Zalishuk, a Member of Parliament with President Petro Poroshenko's bloc.
"And this is why people are so disappointed with the government. Because it is also the price that society has to pay with these slow reforms, with not enough of the implementation of those policies that have been adopted in the parliament. We still didn't manage to break away this vicious circle of corruption."
US Vice President Joe Biden raised the need for more economic reforms in a phone call with the outgoing prime minister.
"I think the main focus should be the continuation of the reform process… IMF programme continuation and focussing now on privatisation because Ukraine has many, many assets it can privatise, which could potentially bring in billions of dollars of new investment," said Andy Hunder, President of the American Chamber of Commerce in Ukraine.
My quotes in the #FT on #Ukraine PM #Yatsenyuk resignation @ChamberUkrainepic.twitter.com/Wbi3cPOUzG

— Andy Hunder (@AndyHunder) 10 avril 2016
Having an ally as prime minister could consolidate power in the hands of President Poroshenko and his inner circle.
Our correspondent in Kyiv, Sergio Cantone, said: "This possible change of prime minister will have to accelerate the pace of reform, of course. But it will also have to avoid the idea that the change has been done for other vested interests."
Nolan Peterson: Why has #Yatsenyuk suddenly resigned? https://t.co/ms0GWbtgLNpic.twitter.com/ESPCkoWuJ8

— Kyiv Post (@KyivPost) 11 avril 2016