Norway to allow same-sex church weddings
Comments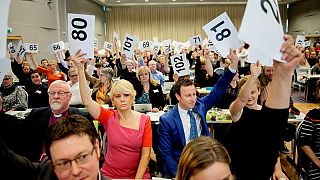 Finally, we can celebrate love, independently of whom one falls in love with
The news
After 20 years of discussion, Norway's main church has voted by an overwhelming majority to allow same-sex marriage.
The Lutheran Church of Norway today voted in favour of gay marriage: https://t.co/zXO7qz4uZNpic.twitter.com/BHmErVhrib

— Christian Today (@ChristianToday) April 11, 2016
88 of the 115 delegates backed the decision at the annual conference of the Norwegian Lutheran Church in Trondheim.
Under the new rules, priests who do not want to marry a same-sex couple will still have the right to object.
Those against the decision says the Bible defines marriage as a union between a man and a woman.
A small – but growing – number
At present, gay marriage is possible in Sweden, Denmark and a number of anglo-saxon congregations around the world.
Norway became the second country in the world after Denmark to allow same-sex registered partnerships in 1993.
The Nordic country of 5.2 million people has allowed civil same-sex marriage since 2009.
Around 74% of Norwegians are members of the Lutheran Church, according to national statistics.
The number has been declining.
What they are saying
"Finally, we can celebrate love, independently of whom one falls in love with," – Gard Sandaker-Nilsen, leader of the Open Public Church movement.