Fujimori likely to face Kuczynski in Peru presidential run-off
Comments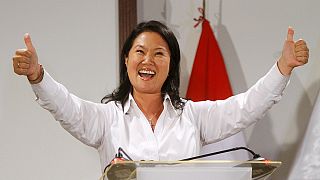 Centre-right candidate Keiko Fujimori has won the first round of Peru's presidential election. Early official results with around two-fifths of votes counted, have given her almost 40 percent.
Fujimori has vowed to preserve democracy and tackle crime.
She has distanced herself from her father, ex-president Alberto Fujimori, who is in jail for human rights abuses.
"We hope that it will be a second round with proposals, with ideas, that are prudent. And we invite all Peruvians on June 5 to choose change, to choose the future, because the future of Peru is already on its way," a delighted Keiko Fujimori told supporters on Sunday night.
It is likely that she will meet centre-right candidate Pedro Kuczynski in the run-off. Early results put the 77-year-old former World Bank economist and former finance minister in second place with around 25 percent of the vote, well ahead of leftist lawmaker Veronika Mendoza in third place on 16 percent.
Kuczynski is seen as more moderate on some social issues than Fujimori, and polls suggest he has a better chance than Mendoza of beating Fujimori in a run-off.
The weekend saw some violence linked to the election. Suspected leftist rebels killed three people and injured six more in an attack on Saturday. A vehicle carrying election materials in a remote coca-growing region was ambushed.
The Maoist Shining Path movement is being blamed.
Fujimori is supported by some who credit her father for defeating the rebels, but several hundred still control some isolated areas.