Indian PM visits area where temple fire killed 100 Hindu devotees
Comments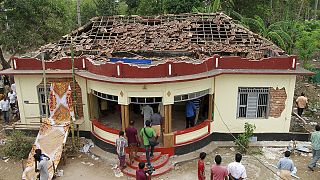 A fire in the southern Indian state of Kerala has killed about 100 people gathered at a temple for a fireworks display marking the start of the local Hindu new year.
The chief state minister said the temple had earlier been denied permission for the event.
"The safety precautions are not taken here properly and the strength of the fireworks: the items they have selected are not suitable for this place," medical officer Dr Saniam Soman told reporters.
Indian Prime Minister Narendra Modi flew to the town of Kollam with a team of doctors to help state authorities cope with the large number of injured.
A local magistrate said people living near the temple had complained about the danger of fireworks at similar events in the past.
Witnesses say the blaze started when a cracker fell onto a shed where the fireworks were stored, sparking a string of powerful explosions.