At least five dead after migrant boat capsizes off coast of Greek island
Comments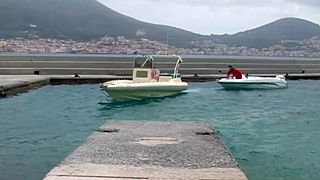 Four women and a child have died after their boat capsized off the coast of the Greek island of Samos. Coastguards rescued five people and are continuing their search for survivors.
They are thought to be the first deaths since the controversial EU deal with Turkey to return migrants from the Greek islands which came into force on Monday.
On Friday more than 120 migrants were deported from Greece to Turkey , in a move criticised by human rights groups. Despite the deportations, boats, full of desperate people continue to reach the Greek islands. Authorities say around 150 arrived within 24 hours on Friday.
Ministers from France, Italy and the Netherlands paid a visit to a reception centre for refugees in Athens on Saturday. They say they are confident that in the next few weeks the repatriation programme will be working well and lead to a smoother asylum process for migrants.