Tensions escalate in Venezuela as Maduro vows to block law passed by opposition
Comments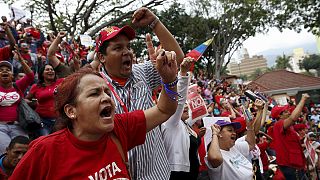 In Venezuela, President Nicolas Maduro has told supporters he will block an amnesty law recently passed by opposition MPs.
The law aims to free dozens of jailed opposition leaders. Maduro says they are criminals and that the law would lead to civil war.
The opposition took control of the legislature in January and has been at war with Maduro ever since.
On Thursday it asked Venezuela's electoral board to start reforming the law to make it easier to remove the president. Maduro says this would be tantamount to a coup.
He's now vowing to seek a constitutional amendment to reduce the legislature's term from five years to two months.