Red Sea bridge to be built linking Egypt and Saudi Arabia
Comments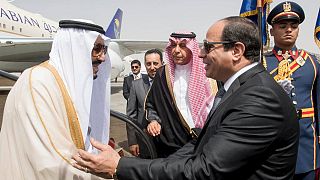 Saudi Arabia and Egypt have announced a bridge is to be built across the Red Sea linking the two countries – as well as the continents of Africa and Asia.
King Salman of Saudi hailed it as a "historic move" that would boost trade between the two allies after meeting Egyptian President Abdel Fattah al-Sisi in Cairo.
No estimate was given for the cost of the bridge, which is to be named after the Saudi king.
Riyadh has helped bankroll Cairo since the Muslim Brotherhood was ousted from power in 2013.
Several other agreements were signed too, in areas such as education, trade and shipping.
It's hoped the bridge will boost tourism, improving access for pilgrims visiting Saudi's holy sites.
It may also help bridge differences between the two countries. Strains have appeared over foreign policy – with Egypt adopting a less hardline stance than Saudi towards Syria's government – and Riyadh seeking more support from Cairo for its war against rebels in Yemen.