Fearless Foxes edging closer to fairytale Premier League title
Comments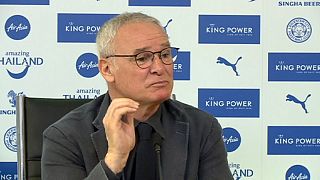 This time last year Leicester were seven points into the relegation zone, fighting for Premier League survival.
Twelve months on and following a fairytale season the Foxes are seven points clear at the top with six games to go.
Manager Claudia Raniera, however, still refuses to admit the club is confident of winning a first English topflight title since 1929.
The 64-year-old Italian said: "No, you know me. From the beginning we go step by step. Now I think Europe is done. Now there is the Champions League, we are fighting for the Champions League. Let me play another three matches and then I tell you something different maybe, I hope."
Leicester are on the brink of the greatest triumph of the Premier League era but the side have scrapped through five of their last six fixtures winning 1-0.
A scoreline that doesn't worry Ranieri too much.
He said: "No, I ask every time the same things. We create chances but at the end we score just one, but it is important not to concede a goal and then one is good. Because more or less we create the same chances than before, but now we score just the one, it's OK."
Rank outsiders at the start of the season, Ranieri and his fearless Foxes are now four wins away from securing the title with their next fixture at Sunderland on Sunday.