Idomeni: it's impossible to continue living like this
Comments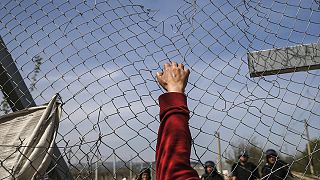 Conditions in Idomeni's makeshift migrant camp are at breaking point. Scuffles broke out as migrants tried to break through a border fence.
Many refuse to be moved to official camps for fear of being deported to Turkey after an EU deal to stem the flow of migrants came into effect on Monday. They are hoping that the border with the Former Yugoslav Republic of Macedonia will be reopened.
The dire situation is even pushing some to consider returning to war torn Syria.
''It is very difficult here, it is impossible to continue living like this," said one resident of the camp. "If I have to, I will go back to Syria and die there, that's better than dying here,''
"#European people, you cried over the death of the child Aylan, now we are dying here in #Idomeni. Dying Slowly." pic.twitter.com/UmdIqkCCJI

—

MSF

Sea (@MSF_Sea) April 4, 2016
The unsanitary conditions have forced the UN refugee agency to call on migrants to leave the camps. A Norwegian NGO 'A drop in the ocean' does what it can to help those at Idomeni, offering basics like baby food and hygiene products.
"Of course, they need food everyday and new clothing," explained Katrine Sanaker, a coordinator for the NGO. "We also gave out some washing basins so that they can wash their own clothes and also dishes and themselves, because there's no good opportunity to have a shower here".
Some 4,000 children remain in Idomeni, the majority of them under five years old. Doctors are warning the conditions pose a major health risk to the camp's youngest residents.
Greece: Health risk to refugee children stuck at border in Idomeni https://t.co/Cm2MuhaSwzpic.twitter.com/Ksdz5PCHgO

—

UNHCR

United Kingdom (@UNHCRUK) April 2, 2016