France and Germany back EU-Ukraine deal despite Dutch 'No' vote
Comments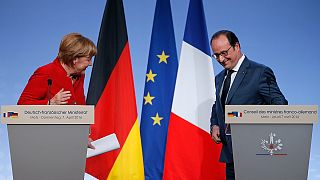 France and Germany are to continue to back the EU agreement on closer ties with Ukraine, despite Dutch voters' rejection of the pact.
The pledge came from President Hollande during the latest joint meeting of both governments, who added that the accord would be applied in both countries.
The meeting at Metz in eastern France covered the European economy, tax evasion, counter-terrorism, and the refugee crisis.
Both leaders stressed the need to secure the EU's external borders – but open up internal frontiers again after some were closed to keep out migrants.
"We must come back as quickly as possible to the Schengen procedures, while ensuring the dignified return of those who were unable to stake their claim to settle in Europe, and that's the sense of what's been found with the accord on Turkey and Greece," François Hollande said during a joint news briefing.
"For security reasons as well as for reasons of gaining people's trust, we have to show we can protect our external borders. You can see that Europe's territory is diverse: that maritime borders are harder to protect than land borders; and that we need cooperation with our neighbours. This applies to Turkey and this will apply now for Libya," Angela Merkel added.
Both France and Germany have reaffirmed their support for Libya's unity government, which is struggling to assert its authority from Tripoli.
The French president said Libya in chaos could give human smugglers the chance to bring tens of thousands of people to Europe.