Surfing wipeouts remembered in spectacular style
Comments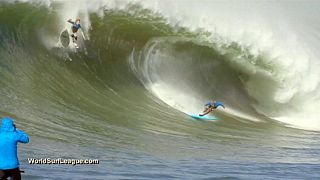 The World Surf League has released a dramatic series of pictures announcing the nominees for Wipeout of the Year Award.
Surfing fails: World Surf League announces nominees for Wipeout of the Year – video https://t.co/KOnCSqGQwP

— ßŐŃĨßÁŔŐŃĨ (@BoniBaroni) April 6, 2016
The video features the talents of surfers from all over the world including; Matt Becker, Tom Dosland, Garrett McNamara (all from the United States), Pedro Calado from Brazil and Niccolo Porcella from Italy.
"I'm not normally the wipeout guy" — Grant Baker on his Eddie freefall. Watch: https://t.co/i7oyZaLVqspic.twitter.com/ZWQdVuINJx

— Surfline (@surfline) April 1, 2016
The Wipeout of the Year Award is part of the Big Wave Awards 2016, which aims to honour the top ten men and women in surfing over the previous twelve months.
Surfers can earn up to $250,000 in prize money from the various categories including the Ride of the Year, Biggest Wave and the Paddle award.
G-Mac, Becker, Calado, Dosland, Porcella eaten alive by Mav's, Teahupoo, Jaws & Puerto https://t.co/iioeH0ohCfpic.twitter.com/ezjeSAAcRC

— Surfline (@surfline) March 29, 2016
The winners will be crowned at a ceremony at the Grove Theatre in Anaheim, California on April 23, 2016.