How is TV consumption changing around the world?
Comments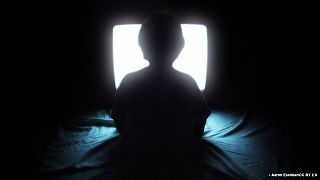 From silent movies to the 'talkies', to colour TVs and now… digital. How we watch video is in a perpetual state of evolution. Here's a quick look at some of the biggest global changes happening right now.
In 2015 worldwide TV sales fell by 11%, young people watched 10 minutes less television a day and in the US research showed that 62% of adults watched online video every day. But according to Fréderic Vaulpré, Vice-President of Eurodata TV Worldwide, we shouldn't write off TV just yet. "Television consumption remains at a very strong level. Still in the world today, on a daily basis, people watch TV for 3 hours and 40 minutes," he told Euronews in a live Periscope interview. "Even if young adults are looking less at television we know that new usages are increasing, like consumption on tablet, mobile and PC."
This shift to viewing content online has left some channels and researchers with a bit of a problem. Until now a show's success was measured by the live audience it drew on TV. But now that people are watching across 4 different screens (TV, PC, mobile and tablet) media companies are scrambling to gather statistics that assess a programme's real value.
7 countries plan to incorporate the 4 screen TV audience into TV ratings – France in 2016 #TVtrends#MIPTVpic.twitter.com/DuFdgwueGz

— EurodataTV Worldwide (@EurodataTV) April 4, 2016
Average TV viewing times vary a lot around the world, there has been a decrease in some regions, like North America and Asia but an increase in Latin America and Africa. Overall though, compared with 2014, the viewing time of traditional TV has decreased by around 3 minutes per day. However when you take into account the amount of 'non-linear' viewing going on (using data from a few countries that have started to measure 4-screen audiences) you see an additional 7 minutes of watch time per day. So overall we are watching more, it's just that it's spread over a number of platforms.
In 26 countries that measure time-shifted viewing, it brings 7% additional audience #TVtrends#MIPTVpic.twitter.com/UhKpMFt0MX

— EurodataTV Worldwide (@EurodataTV) April 4, 2016
International drama dominates
At 2016's TV and digital content event MIPTV the word on everyone's lips was "drama". With bigger budgets for production, the genre has really taken off in the last few years. Fréderic Vaulpré, told Euronews what his organisation had witnessed: "What we've seen is a high request for quality drama, quality fiction… Television is at a very high level… more and more people from the movie industry are now doing television."
" Television is at a very high level… more and more people from the movie industry are now doing television"
This craving for quality scripted series has led more countries to import foreign language content. Even in the UK, where non-English content was rare on mainstream media, it now quite common to see a Swedish or French drama on one of the popular channels. A great example is German series 'Deutschland 83' which was broadcast in 11 countries, accumulating over 11 million viewers.
Top content exporters, France makes it into the top 5 for first time #tvtrends#miptvpic.twitter.com/m2×11QKKPL

— Charlotte Cullen (@_CBCullen) April 4, 2016
Maybe a little surprisingly, a growing taste for quality scripted series hasn't put a dent in the big crowds watching long-running reality formats like 'Survivor', 'The Voice' and 'Bake off'.
Dating formats: a huge trend right now internationally. SBaghery</a> <a href="https://twitter.com/hashtag/tvtrends?src=hash">#tvtrends</a> <a href="https://twitter.com/hashtag/MIPTV?src=hash">#MIPTV</a> <a href="https://t.co/6jrrSijKrv">pic.twitter.com/6jrrSijKrv</a></p>&mdash; MIP Markets (mip) April 4, 2016
5 TV trends to look out for
The trend for web series is only going to grow. Sites like Netflix are heavily investing in content (they are reported to be spending $6 billion on it in 2016).
For Fréderic Valpreé there will also be more variety in non-scripted formats: "I think we will see more innovative entertainment programmes… new competitions, shows."
Live-streaming, described at

MIPTV

as the "new cool", is also set to go mainstream with social media giants and traditional media getting in on the action
Today viewers want a 360 degree TV experience, not a linear one. That means traditional TV channels branching out onto new digital and social platforms and engaging more closely with their fan.