Ceasefire agreed after dozens killed in breakaway Nagorno-Karabakh region
Comments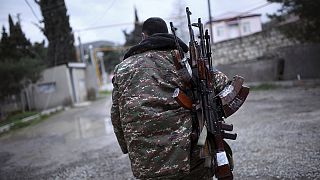 Pro-Armenian forces and the Azeri authorities have announced a ceasefire in the breakaway Nagorno-Karabakh region, four days after intense fighting broke out.
Azerbaijan's President Ilham Aliyev called for fighters from the breakaway region to "cease fire, stay in their positions and not move. We are fighting on our land."
Armenia has yet to comment on the situation.
Diplomatic visits expected
The French Foreign Ministry says France, the US and Russia will send envoys to visit Azerbaijan, Armenia and Nagorno-Karabakh.
French Foreign Minister Jean-Marc Ayrault had earlier called for an immediate ceasefire, saying the conflict could not be resolved by force.
He joined a number of European countries in calling for calm in Nagorno-Karabakh, amid fears that a full-scale war could cause instability in a region serving as a corridor for oil and gas pipelines which supply world markets.
An international issue
The flare-up in fighting in Nagorno-Karabakh is a geopolitical dispute extending much further than Azerbaijan and Armenia.
It has once more set Russia and Turkey at loggerheads. Furthermore, it seems the violence between Azerbaijani and Armenian forces could draw in more international powers. Iran says it is ready to help with mediations, its Fars news agency reported.
This came days after Azerbaijan called for unilateral truce and a matter of hours after Armenian president Serzh Sargsyan urged a ceasefire.
"In order for the ceasefire to be observed, the OSCE should come up with steps aimed at stabilising the situation and the current conditions. They are, first and foremost, an urgent investigation into ceasefire violations and a significant increase in OSCE monitoring possibilities," Sarksyan outlined.
Germany, as chair of the Organisation for Security and Cooperation in Europe (OSCE), has confirmed it will send a fact-finding mission.
Iran, Russia and Turkey: 'peaceful mediations?'
Iran's Foreign Minister Mohammad Javad Zarif reportedly expressed Tehran's readiness to help peacefully settle the conflict during a phone call with his Armenian counterpart, Edward Nalbandian.
Zarif met his Azeri counterpart, Elmar Mammadyarov, in Ramsar, Iran, on April 5, for a trilateral meeting with Turkey. Mutually-interesting issues were on the table, but regional and international developments were also expected to be discussed.
Russia, which sells weapons to both mostly-Christian Armenia and predominantly-Muslim Azerbaijan, has also offered to mediate.
President Vladimir Putin phoned both Sargsyan and Aliyev to urge them to ensure a complete ceasefire over the region, the Kremlin said.
The West was also calling for an end to the clashes.
Big regional power Turkey, however, is insistent Armenian-controlled Nagorno-Karabakh will one day return to Azeri power.
"We are today standing side-by-side with our brothers in Azerbaijan. But this persecution will not continue forever," Turkish President Recep Tayyip Erdogan announced to the media. "Karabakh will one day return to its original owner. It will be Azerbaijan's."
The region is internationally recognised as being part of Azerbaijan.
However, a spokesman for the leader of the breakaway 'Nagorno-Karabakh Republic' directly accused Turkey of feeding the conflict. David K Babayan told the press "Azerbaijan could not have taken this decision on its own."
What happened?
Each side blames the other for the flare-up in violence which, in just over three days, had killed at least 46 people.
The recent fighting dates to the evening of Friday, April 1. By Sunday, Azerbaijan had called for a unilateral truce. However, Armenia dismissed the statement as a ruse, and fighting continued.
On Monday (April 4) Yerevan agreed to the possibility of a ceasefire, if certain conditions were met. Yerevan wants Baku to withdraw from strategic points it captured over the weekend, in the northeast of the region.
"[A] ceasefire would only be possible if the militaries of both sides return to the positions" they held before the outbreak of hostilities, said Sarkisyan.
Azerbaijan, however, says it wants to consolidate its control over the positions its gained. On Monday (April 4), Defence Minister Zakir Gasanov ordered the Azeri army to be ready to strike the regional capital, Stepanakert, "in case of continued Armenian bombardment of civilian targets in Azerbaijan."
Azerbaijan says 16 of its servicemen were killed in 48 hours between Sunday and Monday (April 3-4), in the bloodiest fighting in the region in years. A spokesperson in the breakaway region told Armenian media 29 of its fighters had been killed and 101 injured since the latest outbreak of violence.
The animosity over the region dates back to the end of the Soviet Union. A war in the 1990s ended in an internationally-brokered ceasefire in 1994, but no official peace deal was signed. It is one of at least five so-called frozen conflicts in the region. Many wars in the former USSR ended in truces, but with no final, formal peace agreement.
Prior to April, 2016, the most recent example of such a dispute was the conflict in the east of Ukraine.