Real Madrid win El Clasico bragging rights as Leicester move closer to first league title since 1929
Comments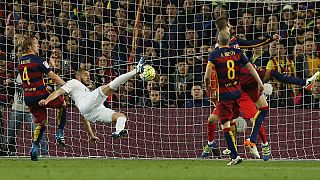 Barcelona's 39-match unbeaten run came to an end on home soil at the weekend as arch rivals Real Madrid won the El Clasico bragging rights.
Gerard Pique broke the deadlock 11 minutes after the break to put the Catalans in front.
Karim Benzema equalized shortly after with a delightful scissor kick.
Although Gareth Bale had a goal harshly ruled out and then Real captain Sergio Ramos sent off for two bookings the capital club still came away with the win when Cristiano Ronaldo struck five minutes from time for his 42nd goal of the season.
Real are third, trailing Atletico Madrid by a point and Barca by seven.
After the game Barcelona skipper Andres Iniesta said: "It was a pity, after we scored to make it 1-0 they were able to seize their counter attacks. It was a defeat and things get a bit more complicated now. But we have to analyse it and move forward."
Outfoxing the the big guns
Some 800 miles north of the Catalan capital, Leicester City put themselves within four wins of celebrating a first English topflight crown since 1929.
Southampton were the Foxes latest victim as they continue their fairytale season.
Leicester captain Wes Morgan headed in the only goal of the game at the King Power Stadium putting Claudio Ranieri's men seven points clear with six games to go after closest title challengers Tottenham drew one all with Liverpool.
It was Leicester's fifth 1-0 win from their last six outings.
Leicester City manager Claudio Ranieri: "We believe it what we're doing, we believe it's a magical season, we believe next season it will not be the same and then we try, we try to do our best and I repeat if another team is better than us, other teams can win 3-0, 4-0, we had to fight to win 1-0 and we know very well for this reason we want to be focused in our way."
Up and down
Today, our Up&Down segment is also dedicated to the two matches we've just talked about. Here are three of the movers and shakers from the weekend games.
Foxes skipper Wes Morgan makes our up list after his first Premier League goal of the season helped his side edged towards the title.
It was the third Premier League goal of his career and a very important one at that.
Also on the up is Zinedine Zidane who celebrated victory in his first El Clasico as Real Madrid boss.
In doing so he proved he has the tactical nous to take on the game's heavyweights and it provided a major boost for the club ahead of Wednesday's Champions League quarter final first leg with Wolfsburg.
Alejandro Hernandez is on the down.
The referee of the El Clasico made a few controversial decisions – notably ruling out Bale's 80th minute goal for what appeared to be a fair challenge on Jordi Alba and the failure to award a Barca a penalty when Ramos felled Messi in the box.
Road to Euro
There's just over two months to go until the 2016 European Championships and we're close to the end of our trip through the competition's history. Who won it 4 years ago? If you don't remember, here's a reminder.
Euro 2012 was the 14th edition of the tournament organised by UEFA and co-hosted for the first time by Poland and Ukraine. It was the last European Championship to employ the 16-team finals format in use since 1996. Spain, who beat Italy 4–0 in the final at the Olympic Stadium in Kiev, became the first team to win two consecutive editions, and also three straight major tournaments (Euro 2008, 2010 World Cup and Euro 2012).
We might be wrong
On Tuesday and Wednesday the best eight European clubs return to action for the first leg of the Champions League quarter-finals.
Here you have our predictions and, if you don't agree, send us yours, using #TheCornerScores.
Barcelona 1 – 1 Atletico de Madrid
Bayern Munich 3 – 1 Benfica
Paris Saint-Germain 3 – 0 Manchester City
Wolfsburg 1 – 2 Real Madrid