'Panama Papers': World leaders caught up in 'biggest financial leak in history'
Comments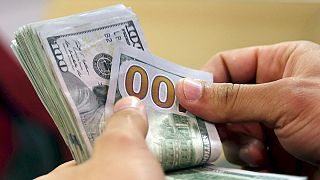 Over 11 million leaked documents from the Panama-based law firm Mossack Fonseca reveal how some of the world's richest and most powerful people hide their wealth in tax havens.
It is being described as the biggest such leak in history.
It is claimed that secret offshore deals and loans worth $2 billion are linked to the inner circle of Vladimir Putin, although the Russian President is not himself named in the files which allegedly show some firms domiciled in tax havens were being used for suspected money laundering and tax evasion.
A Kremlin spokesman says the investigation was aimed at discrediting the president and had been conducted by former US intelligence staff.
Ukrainian President Petro Poroshenko is listed as having offshore wealth – one of 12 current or former leaders mentioned in the files.
Around 60 people with close ties to leaders also feature including Li Xiaolin, the daughter of former Chinese Prime Minister Li Peng.
Argentina's President Mauricio Macri, making headlines recently for the right reasons by hosting President Obama, is named in the data leak as is Iceland's Prime Minister Sigmundur Davíð Gunnlaugsson, now under pressure to resign amid claims he failed to declare a stake in an offshore firm .
There is also embarrassment for Britain's Prime Minister David Cameron, whose late father Ian is listed as a client of the law firm although there is no suggestion he did anything wrong.
The UK's PM Is due to host a major summit on tackling 'tax secrecy' next month.
And it is not only politicians who are implicated in the leaks with world footballer of the year
Lionel Messi and Michel Platini, the former head of European football's governing body UEFA, also on the list.
Owning an offshore firm is not, in itself, illegal but with this leak raising claims of illicit activities, the ball is now in Mossack Fonseca's court to respond.
Reacting to the allegations, the firm has staunchly defended its reputation and vehemently denied any wrongdoing.
The ten most popular tax havens in 'The Panama Papers' are listed below.