Poroshenko defends offshore assets amid 'Panama Papers' leak
Comments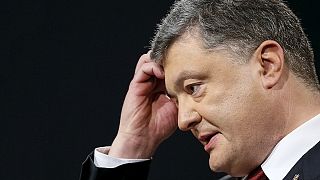 Ukrainian President Petro Poroshenko said on Monday (April 4) he'd done nothing wrong, after lawmakers called for an investigation into allegations he used an offshore firm to avoid tax.
He is cited in the so-called Panama Papers as having set up a company in the Virgin Islands for his confectionery business, Roshen, in August 2014.
Poroshenko said on Twitter he had handed over management of his assets to consulting and law firms when he took office two years ago.
Having become a President, I'm not participating in management of my assets, having delegated this responsibility to consulting&law firms

— Петро Порошенко (@poroshenko) 4 April 2016
I believe I might be the first top official in Ukraine who treats declaring of assets, paying taxes, conflict of interest issues seriously

— Петро Порошенко (@poroshenko) 4 April 2016
Ukrainian President Petro Poroshenko defends offshore assets amid Panama report leak https://t.co/2kt9ue9ItZpic.twitter.com/oldf8dNWkl

— Bloomberg (@business) April 4, 2016
Poroshenko's legal adviser, Kiev-based Avellum, called the tax-evasion allegations groundless and said Roshen met all its Ukrainian tax obligations.
Lawmakers, including from within his own faction, have called for a parliamentary committee to look into the allegations.
Under Ukrainian law, only parliament can launch an investigation into a sitting president.