Mass grave discovered near recaptured Syrian town of Palmyra
Comments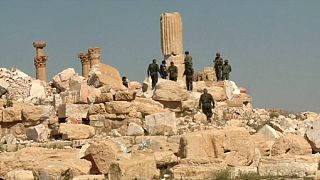 The Syrian army says it has found a mass grave containing about 40 bodies near the city of Palmyra, recently recaptured from ISIL fighters.
The grave is said to contain many women and children and some had been beheaded.
This on the day it was reported that al-Qaida's Syrian branch and other insurgents captured a strategic village from government forces south of Aleppo.
Meanwhile, the US has confirmed that it is training a number of rebels to fight ISIL in Syria.
"Dozens of people are now being trained. These are individuals as opposed to units," said Colonel Steve Warren, Operation Inherent Resolve Spokesman. "And so, what this is, is pull some individuals out of units, vet them, give them some training, give them some capability, and then reinsert them back into the battle field."
There's also further pressure on ISIL in Iraq, with the US-led coalition releasing images of the ISIL headquarters in the city of Mosul recently being hit by airstrikes.