French judokas continue Samsun Grand Prix assault
Comments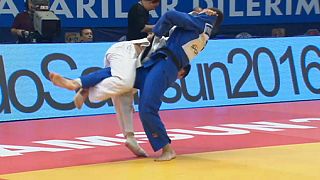 Four gold medals were on offer on day two of the Samsun Grand Prix.
Margaux Pinot continued France's fine showing at the fourth Grand Prix of the season.
The 22-year-old won the U63kg title beating Brazilian Mariana Silva in the final .
Despite a few impressive attempts neither judoka manged to score in regulation which meant a golden score was needed.
Two minutes in and Silva was penalised for passivity leaving Pinot with gold.
All French
The French flags would soon be flying high again when teammates Marie-Eve Gahie and Fanny Estelle Posvite went toe to toe for the U70kg gold.
This fight also needed extra time to determine the winner and once again it was a shido penalty that proved decisive.
Posvite was penalised after just 25 seconds into the golden score.
As Gahie celebrated success Posvite had to settle for silver for the second straight competition after also finishing runner-up in Tbilisi.
A golden breakthrough
Damian Szwarnowiecki fought his way to his first career Grand Prix gold in the men's -73kg division.
The Polish judoka – who won two european under 23 titles – saw off the impressive challenge of Korean Gwang Chol Kim courtesy of an attacking technique known as a Ko uchi gari.
Szwarnowiecki becomes the first man from his country to win an IJF World Tour event.
Ivanov on top step
Ivaylo Ivanov from Bulgaria got the better of former world champion Ki-Chun Wang to win the men's -81 kg category.
Having already beaten Wang in the semis-finals of Paris this year Ivanov once again prevailed against the Korean.
Ivanov was soon trailing after receiving two penalties but he recovered perfectly with a brilliant waza-ari half point which he then defended all the way to the end for victory.
Image of the day
The image of the day comes from Sergiu Toma from the United Arab Emirates.
Toma sent Olympic Champion Jae-Bum Kim crashing to the tatami with an ippon to claim third place in the men's -81kg category. (see video above)
Surprise of the day
There were two standout surprises of the second day of competition.
The first from Venezuela's Elvismar Rodriguez who felled several high-ranked judokas on her way to a deserved bronze medal in the -70 kilo division. The podium placing was the first of her career.
The second surprise came from Puerto Rico's Maria Perez who scooped up the second bronze in the same weight class as Rodriguez. It was her second World Judo Tour medal after her 2013 Grand Prix Miami success.