Thousands turn out in defence of beleaguered Brazilian president
Comments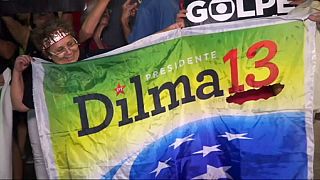 "There will not be a coup" say protesters in numerous Brazilian cities.
There are those who want to trample over democracy. That's a coup
Thousands have turned out in defence of President Dilma Rousseff, who faces possible impeachment by Congress.
A corruption case against her close ally, ex-President Lula da Silva, has also been moved from a lower court to the Supreme Court.
"On one side there are those who want to trample over democracy," said Lula, "approving an impeachment without any legal basis."
"That's a coup d'etat. On the other side are those who believe in democracy and defend it with body and soul."
One pro-Rousseff protester said: "I was a political prisoner. I escaped from the police and hid inside a church and we don't accept that anymore.
"And even those who defend Dilma's impeachment can only do so because we fought so they could have freedom of speech."
As well as accusations of budget irregularities against Rousseff, critics are angry that she offered Lula a place in the government – a job that comes with immunity – just as he was charged with money laundering and fraud.
The job nomination has been suspended by judges.
The lower house of Congress is due to vote in a few weeks on whether Rousseff should be impeached in the Senate.
She denies accusations that she manipulated government accounts as part of her bid for reelection in
2014.