Santander to close hundreds of Spanish branches
Comments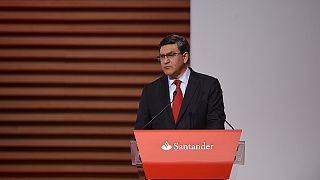 Santander is to close around 450 smaller branches in its home country Spain this year.
It is partly because of the shift to internet banking but also to cut costs, according to an internal memo sent to employees by the bank's chief executive Jose Antonio Alvarez.
Spain is among the European countries with the highest proportion of bank branches and many lenders there still have larger than average networks.
Santander has 3,467 domestic branches and the majority of those earmarked for closure have fewer than four employees.
"Inevitably these measures will lead to a reduction in the number of people in the corporate centre and Santander Spain," Alvarez said. Local media reported as many as 1,000 jobs could be lost at Spain's largest bank.
Unions expect to discuss the restructuring process next week, one of the country's main unions UGT said in a statement. The Comisiones Obreras union said it had been told employees would be offered incentives to leave.
Santander also plans to upgrade 350 of its larger branches this year, installing more modern cash machines.