EU-Turkey migrant deal: UNHCR warns neither side is ready
Comments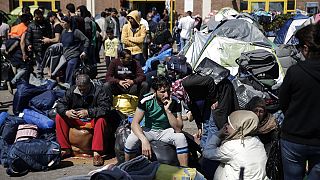 With Europe's deal on sending migrants back to Turkey due to come into force on Monday, the plight of the more than 50,000 people stranded in Greece behind closed borders looks more uncertain than ever.
Neither side is fully ready to begin the returns procedure, according to the United Nations agency for refugees.
"We are urging the parties to the recent EU and Turkey agreement on refugees and migrants to ensure that all safeguards are in place before any returns begin," UNHCR spokesperson Melissa Fleming told a news conference in Geneva.
"This is in light of continued serious gaps in both countries."
In #Greece aspects of system for receiving people needing int'l protection not working https://t.co/TKPJrKAQCspic.twitter.com/V4eCUxKVQ8

— UN Refugee Agency (@Refugees) 1 avril 2016
The policy is meant to end the uncontrolled influx of refugees and other migrants in which more than a million people crossed into Europe last year.
Under the pact, Ankara will take back all migrants and refugees who cross to Greece illegally by sea. In return, the EU will resettle thousands of legal Syrian refugees directly from Turkey – one for each Syrian returned from the Greek islands.
Amid sometimes heated exchanges, the Greek parliament has been debating a bill to
facilitate the implementation of the EU-Turkey deal.
Our correspondent in Athens, Stamatis Giannisis, explained:
"Despite the reaction of opposition parties and even some MPs in the government's majority, the new law has been endorsed by the Greek parliament. It comes around 48 hours before the first 500 migrants, mainly from Morocco, Pakistan and Afghanistan, will be returned to Turkey in accordance with the agreement between Ankara and the European Union."
Highlighting the dangers for migrants sent back from Europe under the deal, Amnesty International says that Turkey has illegally returned thousands of Syrians to their war-torn homeland in recent months.
The fatal flaw in the #EUTurkeydeal? Thousands of refugees sent back to war-torn Syria. https://t.co/pkJj2V3gwMpic.twitter.com/CkzKYqnHx3

— Amnesty UK (@AmnestyUK) 1 avril 2016
Turkey's foreign ministry denied Syrians were being sent back against their will, while a spokesman for the European Commission said it took the allegations seriously and would raise them with Ankara.