Anbang abandons Starwood Hotels bid
Comments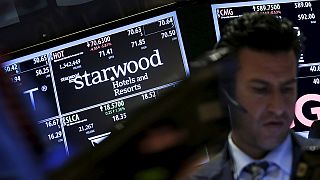 A consortium led by China's Anbang Insurance Group has given up on its attempt to buy Starwood Hotels & Resorts, which operates 10 brands including Sheraton, Westin and W hotels.
The surprise withdrawal ends a brief bidding battle with Marriott during which Anbang had raised its offer to almost $14 billion (12.25 billion euros).
Anbang said it was pulling out "due to various market considerations" without explaining what those were.
China's insurance regulator would have had to approve any deal which might have proved difficult. Chinese financial magazine Caixin reported earlier this month that the regulator would have been unhappy as the purchase would have put Anbang's offshore assets above a 15 percent threshold for overseas investments.
It would have been the largest takeover of a US company by a Chinese buyer and in Washington the Committee on Foreign Investment in the United States would also have scrutinised the deal. However, both Starwood and Anbang reportedly believed the committee would not have blocked it.
Marriott's shares fell indicating some of its investors think it is paying too high a price for Starwood.
Starwood and Marriott shareholders are separately scheduled to vote on the deal on April 8.