Turkey: seven police killed in Diyarbakir car bomb
Comments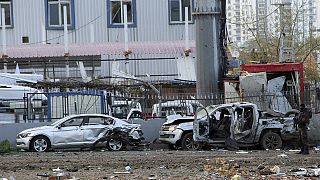 Turkey says seven police officers have been killed and 13 injured by a car bomb in the city of Diyarbakir.
The attack is said to have targeted police special forces travelling in a minibus. The explosion happened near a bus station.
The authorities said 27 people in all were injured, including fourteen civilians.
Two of the wounded – one police officer and one civilian – are in a serious condition.
The attack came as government ministers visited the city.
Security sources believe a parked car laden with explosives was detonated by remote control.
There was no claim of responsibility but President Recep Tayyip Erdogan was quick to blame the outlawed Kurdistan Workers Party (PKK).
"We have no more patience in the face of these attacks. I hope they will make European and other countries see the real face of PKK terrorism and that of other groups affiliated to it," he said during a visit to Washington.
Diyarbakir, the largest Kurdish city in the southeast, has been hit by waves of violence in fighting between the PKK and the government since a ceasefire collapsed last July.
Round-the-clock curfews have been implemented in parts of the southeast, where the economy has also been devastated by the violence.
A PKK offshoot has claimed two car bomb attacks this year in the capital Ankara.
Diyarbakır'da Şanlıurfa yolu üzerinde, zırhlı aracın geçişi sırasında patlama meydana geldi.
İşte ilk görüntülerhttps://t.co/UBTpMgjKbN

— Habertürk TV (@HaberturkTV) 31 mars 2016