Golden State squeeze past Utah to continue historic run
Comments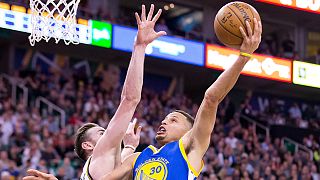 The Western conference-leading Golden State Warriors were pushed all the way to the wire by the Utah Jazz on Wednesday night before emerging victorious to continue their historic run in this season's NBA.
Golden State led 26-21 at the end of the first quarter although that lead was cut to two points as the teams heading in for half time.
With two minutes to go in the forth the Jazz were leading but Draymond Green hit a layup to pull the Warriors level at 85-apiece with the clock ticking down.
Soon after, Gordon Hayward and Shelvin Mack looked to have delivered the Jazz safely over the finish line for a stunning win only for Klay Thompson to send the game into overtime with a tying 3-pointer with 15 seconds left.
Reigning MVP Stephen Curry – who ended the night with a game-high 31 points – took charge in overtime to help the Warriors pull away to a 103-96 victory.
Golden State are now five wins shy of breaking the record for most wins in the regular season – they have seven more games to do it.