Terror plot suspect charged over 'imminent' attack in France
Comments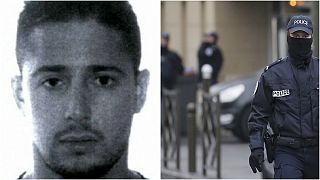 Reda Kriket, 34, detained near Paris amid a spate of police raids after last week's bloodshed in Brussels, has been charged with terrorism offences over an alleged plot to target France.
The Paris Prosecutor said the arsenal of weapons found at an apartment outside the French capital suggested an attack was imminent.
Detailing the grisly haul including chemicals that could be used for a bomb, Prosecutor Francois Mollins told reporters that there was about 1.3 kg of industrial explosives, 5 Kalashnikov assault rifles and their magazines, a submachine gun of Croatian origin, seven handguns, a tear gas canister and a large amount of munitions as well as a book entitled "The Modern Laboratory."
While this probe is distinct from the investigation into the Brussels attacks or November's carnage in Paris, security forces across Europe are seeking to unravel a spider's web of terror believed to be linked to so-called Islamic State which claimed both big mass atrocities.
Further raids have been carried out in Rotterdam where another Frenchman was arrested on Sunday. Both he and Reda Kriket are suspected of having returned from Syria.