Spain's Socialist and Podemos parties set to start coalition talks
Comments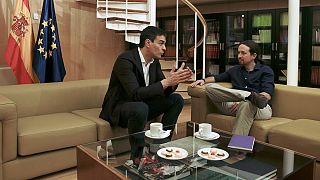 Can the leaders of Spain's Socialist Party and anti-austerity newcomer Podemos finally end the country's political stalemate?
They are set to start talks on forming a coalition, seeing if there is any mileage in an, as yet, untried combination.
Spain's been without a government since December's inconclusive elections and the deadline for calling new polls is little more than a month away.
"With all due caution, we're now closer to a new government than a new election," said Pedro Sánchez, Socialist Party leader.
The Socialists insist that liberal party Ciudadanos should be part of the equation when it comes to a left-wing coalition.
But that is something Podemos leader Pablo Iglesias does not want.
"I want to ask (Ciudadanos) for statesmanship, in the public interest of Spain and the Spanish people – to collaborate in pushing out Mariano Rajoy and PP policies from the government," said Iglesias.
After meeting with Pablo Iglesias, Socialist chief insists both Podemos and Ciudadanos must join any government deal https://t.co/RyVSw5jyud

— El País in English (@elpaisinenglish) March 30, 2016
A left-wing coalition would still be short of a parliamentary majority and would need other parties to abstain or vote in favour in a confidence vote – something that may not be easy to achieve.