Demining Palmyra - scores of bombs feared hidden in the historic city
Comments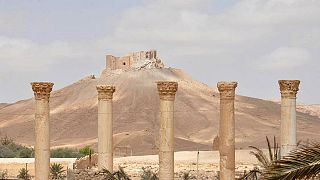 Russian experts
A group of Russian sappers, or military engineers, is preparing to leave on an unusual mission in Syria.
Russian television says they will help with the de-mining process in Palmyra.
Syrian officials say 150 bombs have already been removed from inside the archaeological site in the historic city.
They were reportedly planted by ISIL fighters.
Retaking Palmyra
Syrian government forces, backed by significant Russian air support, drove ISIL out of Palmyra on Sunday March 27.
Analysts say the loss of the city is a big setback for ISIL.
It opens up the route leading east to the group's strongholds of Raqqa and Deir al-Zor.
Desecration
Many of Palmyra's temples and tombs have been dynamited by ISIL fighters in what the UN says is a war crime.
However, drone footage suggests some colonnades and structures, including the famous theatre, are still standing.
Drone footage shows what remains of Palmyra after Syrian government forces drove Islamic State fighters out.https://t.co/i3S6JPHhLe

— Channel 4 News (@Channel4News) March 28, 2016
Latest drone footage suggests historic Palmyra may have survived
ISIL
It is suggested up to 80% of the historic site may have survived.
In tweets
New photos and drone footage show that Palmyra is not as damaged as originally feared: https://t.co/8wNJQTjNhspic.twitter.com/V6rC5CX6xL

— Foreign Policy (@ForeignPolicy) March 29, 2016
Preliminary evidence suggests Palmyra has survived
ISIL
80 percent of ancient Palmyra in 'good shape': Syrian expert https://t.co/NeF3y6kHFqpic.twitter.com/orGa8XwXW0

— Middle East Eye (@MiddleEastEye) March 29, 2016
Experts think as much as 80% of the historic city could still be intact
Ancient sites survived Islamic State occupation https://t.co/atnrjpHP91

— Wall Street Journal (@WSJ) March 29, 2016
Palmyra could be restored in five years
#SyrianArmy troops play football in the ancient city of #Palmyra#AFPAFP</a> <a href="https://t.co/dOB1BPwUNU">pic.twitter.com/dOB1BPwUNU</a></p>&mdash; Aurelia BAILLY (AureliaBAILLY) March 29, 2016
Syrian troops relax by playing football in the streets of the retaken city.