Protesting migrants demand FYROM border is re-opened
Comments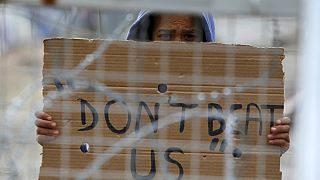 Let us through. The message from migrants stranded at a makeshift Greek camp near the border with the former Yugoslav republic of Macedonia.
Hundreds have joined a protest, to call for the frontier to be re-opened, with the aim of reaching wealthier European countries.
Many are living in squalid conditions in tents near the town of Idomeni.
"Yesterday, there was a woman who gave birth here in the camp, and before that, another woman gave birth. The baby is 12 days old and living in conditions not suitable for animals," said Hana, who is from the Syrian capital Damascus.
"We won't accept this. We are humans and we have rights. This is why we are here today and we will keep protesting until the borders open."
Around 50-thousand migrants and refugees remain trapped in Greece after a domino of border closures by countries along the so-called Balkan route.
Athens has said it is a priority that migrants leave the Idomeni camp and has boosted efforts to convince them to move to nearby shelters.
It is also speeding up the creation of reception centres for up to 30,000 migrants, to help cope with a sharp rise in numbers.
The EU and Turkey have agreed to clamp down on the flow into Europe. But those who have already fled their homes refuse to give up hope.