Lockdown in Lahore in aftermath of deadly bombing
Comments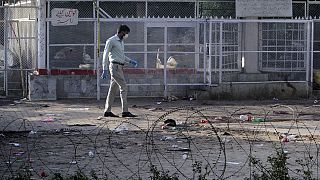 At least 70 dead
More than 300 injured
The majority are women, children
Lahore park was packed for Easter Sunday
Taliban faction claims responsibility
Hunting the bombers
The authorities in Pakistan are hunting the members of a Taliban splinter group who claimed to be behind a suicide bombing that has killed at least 70 people in Lahore.
More than 300 people were injured in the attack on Sunday evening, which targeted a busy park during Easter weekend.
Jamaat-ul-Ahrar, a splinter group of the Pakistani Taliban, says it planted a device in this children's playground.
Christians were the target of the attack, the group said in a statement, and the aim is to send a direct message to Pakistani President Nawaz Sharif.
At least 70 people died. More than 300 have been injured.
Lahore
Capital of the Punjab, Pakistan's richest province
Seen as the country's political and cultural heartland
Affluent and liberal
What they are saying
"The target was Christians, we want to send this message to Prime Minister Nawaz Sharif that we have entered Lahore," -*faction spokesperson Ehsanullah Ehsan*.
"We must bring the killers of our innocent brothers, sisters and children to justice and will never allow these savage inhumans to overrun our life and liberty,"military spokesman Asim Bajwa.