Pope Francis uses Easter homily to call for hope
Comments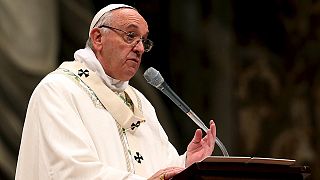 The Pope has used an Easter vigil Mass in St Peter's Basilica to urge people not to lose hope in a gloomy world.
The Holy Week commemorating Jesus' betrayal and crucifixion has been marked by terrorist attacks in Brussels and ongoing conflict elsewhere.
On Good Friday Pope Francis condemned violence and fundamentalism in the name of religion which he said profaned God's name.
This time his tone was more upbeat, as he said Easter was a time for Christians to cast aside pessimism.
"May the Lord free us from this trap, from being Christians without hope, who live as if the Lord were not risen, as if our problems were the centre of our lives," he said.
The pope used the word hope about 20 times in his homily delivered on Saturday evening, centred around the Christian belief that Jesus rose from the dead.
During the service he baptised 12 adult converts to Catholicism from around the world.
To live Easter means to enter into the mystery of Jesus who died and rose for us.

— Pope Francis (@Pontifex) 26 March 2016