Kitesurfers thrill the crowds in Egypt
Comments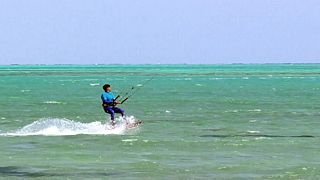 In a corner of Egyptian paradise Brazil's Carlo Mario and Poland's Karolina Winkowska took the top honours at the IKA World championships.
The kitesurfing elite landed in El Gouna for the last week in March, and with wind speeds of up to 27 knots some spectacular freestyling was on the cards, and the athletes lived up to their reputations.
2015's teenage revelation Mario was flawless through to the final, where he outclassed the 2013 world champion Alex Pastor.
In the womens event it was good to see 2009 champion and one of the sports' biggest names Bruna Kajiya back to something close to her best from after a serious knee injury two and a half years ago, but Winkowska fought back from a slow start to beat her.