Greece steps up efforts to clear Idomeni camp, but many reluctant to leave
Comments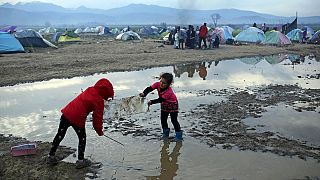 The Greek authorities on Friday evening began transporting refugees and migrants from the sprawling settlement in the border town of Idomeni to established camps elsewhere in the country.
An estimated 12,000 people have been living in tents in Idomeni – which is located next to the border with the Former Yugoslav Republic of Macedonia (FYROM) – hoping that the Macedonian government would reopen the crossing and let them in.
Qasem, a Syrian refugee from Deir al Zor, was one of those keen to board one of the buses.
"It's cold here," he said. "I have seven children with me, what can I do with them? We want to go to a new camp. They are saying it's better there for children, that it's warm, there are bathrooms."
But many people do not want to leave Idomeni because they fear that the new camps may be no better – and that if they go, then their hopes of reaching wealthier countries in Western Europe may go with them.
Twenty buses arrived at the camp on Friday evening, but by late night only eight had been filled, by some 400 people.
The Greek government has said repeatedly that it will not use force clear the Idomeni camp.
Leaflets in Arabic, Farsi and Pashto telling the refugees and migrants that the border is closed and they should move to official shelters have been distributed throughout the camp by police.
Um Izz, an Iraqi refugee from Baghdad, said: "At first I thought (the other camp) would be better, but then when I thought about it I said to myself it might be the same as this, just tents, so it makes no difference, all we are going to do is change locations.
"But this location is better because it's closer to the border."