Fencing: Dershwitz claims sabre title at Seoul Grand Prix
Comments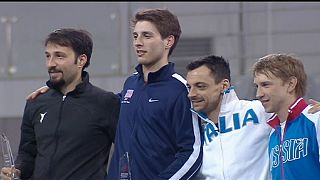 American fencer Eli Dershwitz won the men's sabre title at the Seoul Grand Prix on Saturday after seeing off the challenge Iran's Mojtaba Abedini in the final.
The 20-year old junior World and Pan American Games champion sealed a 15-9 victory.
Russian Nikolay Kovalev and Italian Diego Occhiuzzi went home with bronze.
Dershwitz had an excuse for a double celebration on the day as with the win he booked his spot on the US Olympic team heading to Rio this summer.
Yana Egorian handed Russia gold in the women's sabre event in Seoul.
The 22-year-old left-hander who won team gold at the 2014 European Championships, beat home hope – South Korea's Jiyeon Seo 15-10 in the showpiece match.
Sofya Velikaya made sure of another medal for Russia when she took bronze along with Vassiliki Vougiouka of Greece.