Turkey slams Belgian and Dutch officials over release of Brussels suicice bomber
Comments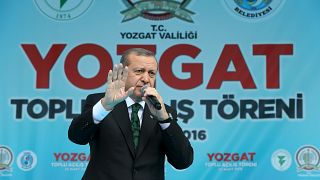 Belgian MPs have been grilling federal ministers over the failure of government and intelligence services to prevent the deadly attacks in the capital.
Interior Minister Jan Jambon and Foreign Minister Didier Reynders were among those who spelled out what their offices did in the lead-up to the bombings.
Reynders said on July 14, 2015, Turkish authorities had informed them that one of the Brussels airport suicide bombers Ibrahim El Bakraoui had been deported to Amsterdam but they didn't give any reason why.
In response, Turkey's President Recep Tayyip Erdogan accused Belgian authorities of being soft on militant groups and described them as being "incapable" after the Netherlands released Bakraoui. Dutch authorities say Turkey failed to follow normal procedures when expelling him.
But speaking to supporters in the central Turkish town of Sorghum, Erdogan said: "We detained this guy, we deported him, sent him back but they didn't do what was necessary and released that terrorist. Now, you should account for it."
Erdogan also went on to compare the Islamic State with the Kurdistan Workers Party (PKK) which is waging an insurgency in Turkey's southeast, saying both are terrorist organisations.