US and Russia seek to speed up Syrian peace talks
Comments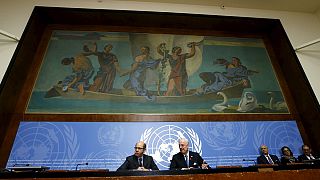 Russia and America tried to ease the logjam on Syrian peace talks in Geneva on Thursday.
US Secretary of State John Kerry met with President Vladimir Putin in Moscow for four hours as the two sides pledged to use their influence to prod government and opposition closer together.
Washington believes that Moscow, closely allied to Assad, can convince Damascus
to make concessions, but there are no signs from Geneva that this is imminent.
"Well, first of all, I have the feeling that we have been able to overcome these two weeks without any walkouts, any drama, any delegitimisation and potentially we have a document that has been not refused by either side on what could be the understanding of principles, which then means, next time we leave the principals aside and then look at the political process," said UN Special Envoy for Syria Staffan de Mistura.
The Geneva talks are now adjourned until later in April, giving delegations the time to report back, and the US and Russia to immediately reinforce the ceasefire, halt attempts by groups to seize new territory, begin prisoner releases, and expand humanitarian access, along with starting direct talks between the Syrian government and all opposition groups for the first time.