'Execution' claims as video shows shooting of wounded Palestinian
Comments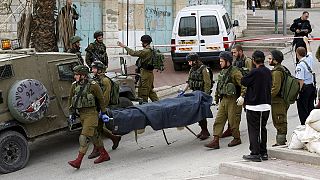 What happened?
Israeli troops have shot dead two Palestinians after they attacked a soldier in the West Bank.
One soldier has been suspended from duty after video footage seemed to show him firing at one of the attackers as he lay on the ground.
Israeli military police have launched a criminal investigation.
The details
Human rights groups accuse Israeli forces of resorting too readily to gunfire to wound or kill attackers.
Soldier lightly wounded
Dead identified as Ramzi Al-Qasrawi and Abdel-Fattah Al-Sharif
Both were 21
Hebron
City of 200,000
1000 Israeli settlers
Attack took place in area where Jewish settlers live with Palestinians
The lowdown since last October
This is the worst period of sustained violence in the West Bank and Jerusalem since the second Palestinian uprising ended a decade ago.
Israel occupied the West Bank and annexed East Jerusalem in the 1967 Middle East war.
28 Israelis have died in street attacks since last October
2 US citizens have also been killed
190 Palestinians have been killed by Israeli forces
Israel says youths are being incited to violence by their leaders and on social media
Palestinian leaders say they are acting due to frustration over the lack of progress in creating an independent state
The UN, EU and US say Israel has a right to defend itself but have urged restraint in the use of force
What they are saying
"The Israeli Defence Force views this incident as a grave breach of IDF values, conduct and standards of military operations. A military investigation has commenced and the soldier involved has been detained." – military spokesperson Lieutenant Peter Lerner.
Palestinian Prime Minister Rami al-Hamdallah says the video offers proof that Israeli soldiers _"carry out field executions of Palestinians" and called for international protection of Palestinian civilians.