Credit Suisse CEO Tidjane Thiam was paid 18.9 million Swiss francs last year
Comments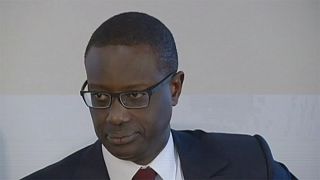 One day after Credit Suisse said it is accelerating its cost-cutting plan and will cut a further 2,000 jobs in its Global Markets division, we learned what Chief Executive Tidjane Thiam is being paid.
It's not my job to be popular. I'm trying to do the right thing
For the period from last July – when he started that job – Thiam got 18.9 million Swiss francs (17.4 million euros).
Eighty percent was in the form of shares to compensate him for the cancellation of deferred awards from his previous employer – British insurance firm Prudential.
Thiam, who has the Herculean task of turning round Credit Suisse, did ask for his 2015 bonus to be cut by 40 percent, more than the 36 percent cuts in bonuses of Global Markets staff.
That division is being drastically slimmed down following a slump in investment banking revenues.
The latest cuts bring the total to 6,000 job losses announced by Thiam since he took over last year. Most will be in London and New York.
"I'm aware that I'm not very popular right now," Thiam told a banking conference in Zurich. "It's not my job to be popular. I'm trying to do the right thing."
Surprise losses
On Wednesday Thiam admitted he had been unaware of trading positions that led to more big writedowns in the first quarter.
Asked in an analyst call who would be held responsible for about $1 billion (896 million euros) in losses on its illiquid credit portfolio over the past two quarters, Thiam said things had clearly gone wrong but the bank was now confident the problems had been identified.
"We can't have the CEO and a CFO in a bank surprised by something like that," Thiam said.
CreditSuisse</a> CEO <a href="https://twitter.com/hashtag/TidjaneThiam?src=hash">#TidjaneThiam</a> says some of his traders&#39; judgment was questionable <a href="https://t.co/8ID7HaIdkD">https://t.co/8ID7HaIdkD</a></p>&mdash; Sunday Business Post (sundaybusiness) March 24, 2016
The first quarter is normally the most lucrative period for the industry, when investors put their money to work at the start of the year, but this year revenues have been hit by record low interest rates, low commodity prices and slower growth in emerging markets.