Baseball and diplomacy - Obama ends his landmark trip to Cuba
Comments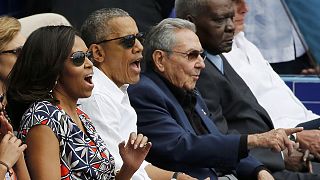 Even in Cuba the victims of the Brussels bomb attacks were remembered in a minutes silence at the start of a baseball match attended by President Barack Obama.
It had been a much-anticipated exhibition game between the US Major League Baseball team the Tampa Bay Rays and the Cuban national side.
Obama: Attending Cuba Baseball Game with Castro Sends a Message to Terrorists https://t.co/3GCfdKdqzx

— Breitbart News (@BreitbartNews) March 23, 2016
But before the sport there had been the politics.
In an unprecedented live TV address delivered from the Grand Theatre in Havana, Obama had challenged Cuba's Communist government with an impassioned call for democracy.
"I believe citizens should be free to speak their mind without fear, to organize, to criticize their government, and to protest peacefully, and that the rule of law should not include arbitrary detentions of people who exercise those rights," said President Obama.
Obama's address was the first time a sitting US president's speech was broadcast to the Cuban people while on Cuban soil.
Obama's administration is seeking to galvanize the Cuban people to help him pressure their government for reforms without being accused of meddling.
After the speech, Obama met in private, a group of prominent Cuban dissidents, including the Ladies in White who campaign for the release of political prisoners.
It was the most controversial part of his itinerary in the eyes of the Cuban government. President Castro had earlier denied the existence of political prisoners and when challenged by a reporter demanded a list. of names.
During the meeting the dissidents gave the list to Obama.
While the historic trip by President Obama – the first by a sitting US president in 88 years – had its ups and downs with both nations highlighting each other's short comings, it must have been a success.
For one thing, unlike on Obama's arrival, Castro was on hand at the airport to bid the US leader farewell, giving him an enthusiastic handshake at the bottom of Air Force One's stairway.
President Obama is now on his way to Argentina.