Tymoshenko calls for pressure on Putin over Ukrainian pilot Savchenko verdict
Comments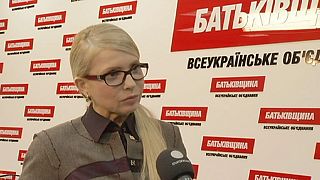 A Russian judge has adjourned proceedings on the trial of Nadiya Savchenko, and the court awaits the full verdict on Tuesday which is expected to be guilty.
The Ukrainian pilot was charged with directing mortar fire which killed two Russian journalists. She denies any wrongdoing.
Ukrainian politician Yulia Tymoshenko has called for pressure on the Russian president to secure her return.
"We know that Putin and the Kremlin are feeling some pressure from Western leaders. We are counting on the fact that under this pressure Putin will free Nadia after the verdict – to serve her sentence in Ukraine. Or according to the Minsk agreements that all of our prisoners of war will be exchanged for theirs and Nadia could be exchanged in priority for those Russians who are held captive in Ukraine."
Russia has said it will not discuss any possible prisoner swap until a verdict is handed down.
The case has become a major source of tension between Kyiv and the Kremlin, with the former declaring the trial a 'farce'.