World's longest aircraft to make maiden voyage this year
Comments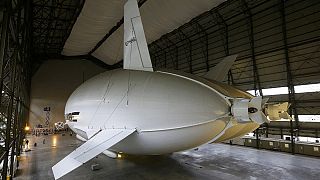 The world's longest aircraft is to make its first flight later this year, it has been announced. Named the Airlander 10, it spans more than six double decker buses and can stay airborne for up to two weeks, its British manufacturer, Hybrid Air Vehicles, claims.
Meet the #Airlander 10, the world's longest aircraft https://t.co/B0xoMuxoElpic.twitter.com/PIES8aDSgz

— China Xinhua News (@XHNews) March 21, 2016
The helium-filled Airlander can take off and land vertically, meaning it does not need a tarmac runway. This makes it potentially useful for aid deliveries and carrying cargo and Coast Guard monitoring, as well as leisure trips.
Fact #1: Airlander 10 is not a movie title https://t.co/B4DVdjmw9Ipic.twitter.com/xI2AMDsfH3

— Gizmodo UK (@GizmodoUK) March 21, 2016