Obama visits Old Havana at the start of a historic tour to Cuba
Comments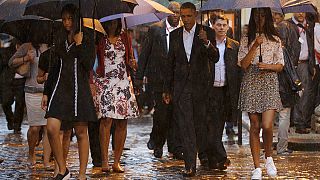 President Barack Obama and his family visit Havana's old quarter as a three-day-trip gets under way to the country which hasn't seen a US president for decades.
Obama, who has abandoned a longtime US policy of trying to isolate Cuba wants to make his policy shift irreversible even if a Republican is elected to the White House in November.
His first stop was a meeting with staff of the newly reopened US embassy.
"For the first time ever Air Force One has landed in Cuba and this is our very first stop so this is a historic visit and it's a historic opportunity to engage directly with the Cuban people and to forge new agreements and commercial deals to build new ties between our two peoples. And for me to lay out my vision for a future that's brighter than our past," said President Obama.
The visit is the cumulation of a diplomatic opening announced by Obama and Cuban President Raul Castro in December 2014, ending decades of estrangement.
But there are still entrenched ideological differences and Obama will hold talks with Castro but not his brother, retired revolutionary leader Fidel.
There are also major policy differences, notably the 54-year-old economic embargo of Cuba. Obama has asked Congress to rescind it, but the move has been blocked by the Republican leadership.
But for the moment that didn't seem to worry ordinary Cubans who turned out in their hundreds cheering the motorcade despite the rain.
On the agenda the trip highlights are likely to be Obama's speech o live Cuban television on Tuesday, when he will also meet dissidents and attend an exhibition baseball game between Major League Baseball's Tampa Bay Rays and Cuba's national team.
Obama visits Cuba at a good moment for US-Latin American relations. Will it last? https://t.co/gBWEfjKLUapic.twitter.com/DRQAIl9MBs

— The Economist (@TheEconomist) March 21, 2016