Anqi and Grumier boost Olympic fencing ambitions with Budapest wins
Comments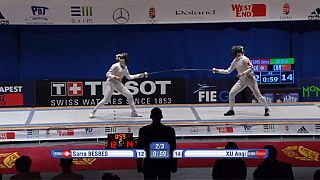 Two fencers laid down serious markers ahead of the Olympics at the Budapest Grand Prix by striking gold, China's Xu Anqi just fending off a spirited challenge from Tunisia's Saura Besbes to take gold in the women's Epee, 15-13.
The match provided some serious entertainment as the world numbers three and four could hardly have been more closely matched. Both were already qualified for Rio, but gold and silver will boost their rankings ahead of the event.
In the men's Epee gold was much easier for France's Gaulthier Grumier, who disposed of world number two Enrico Garozzo 15-4 in summary fashion.
This was the world's top fencers' last chance to qualify for Rio by ranking. Their last chance saloon comes in April, with the zonal qualifiers.