Russian interest rates on hold, inflation outlook uncertain
Comments
By
Euronews
with
Reuters, Bank of Russia press release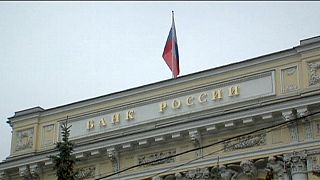 Russia's central bank has left its main lending rate at 11 percent and signalled that it is not looking at cuts to the cost of borrowing anytime soon as it focuses on keeping inflation under control.
The Banks of Russia has retained its key rate at 11.00% p.a. (3/18/2016):
On 18 March 2016, the Board … https://t.co/cW45oYTlBK cbr.ru

— Bank of Russia (@cbr_en) March 18, 2016
At the same time the bank issued its latest forecast predicting Russia's economy would contract by between 1.3 and 1.5 percent this year.
"Macroeconomic fundamentals … suggest a less severe downturn than previously estimated considering this level of oil prices/"
Slumping oil prices mean the country is in recession and the currency, the rouble, is weak.
Inflation has been on the wane – at 8.1 percent in February – but the bank's economists are not taking anything for granted saying inflation risks "remain high" due to unstable global oil and food prices and uncertainties about regulated prices in Russia and the state of the federal budget.
They think inflation will fall below 6.0 percent by this time next year and reach the bank's 4.0 percent target by the end of 2017.
Read the full statement of Bank of Russia Governor Elvira Nabiullina here