PYD Kurds create 'unconstitutional' federation in northern Syria
Comments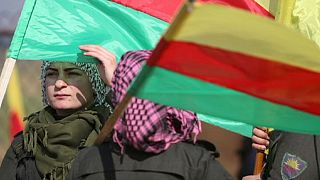 The Syrian Kurdish Democratic Union Party, or PYD, has joined forces with several allied groups to declare the creation of an autonomous federation in northern Syria.
Lying on the border with Turkey, the region concerned was renamed 'Rojava' following two days of meetings between representatives of various ethnic groups in Rmeilan.
Both the Syrian government and at least one major opposition bloc have dismissed the move, which brings together three Kurdish-led areas under one, PYD-controlled federal system.
Syria's foreign ministry issued a statement warning against "creating a union or a federal system," saying it contradicts the national constitution.
The opposition Syrian National Coalition has also come out against the decision, which "confiscates the will of the Syrian people."
Ankara is also expected to be angry about the move. It fears the growing power of Kurds across the frontier will promote further segregation among its Kurdish minority.