Problems mount, impeachment process begins for Brazil's Rousseff
Comments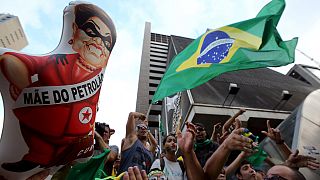 Dilma Rousseff's problems are growing by the day.
Brazil's lower house of Congress has launched impeachment proceedings against the president following allegations her government manipulated accounts to allow Rousseff to increase public spending in the run-up to her 2014 re-election.
A committee of 65 members will examine whether or not there are grounds to remove her from office.
It comes amid an ever-growing corruption scandal and economic recession.
In an effort to curry favour among the public, Rousseff appointed former President Luiz Inacio Lula da Silva as her chief of staff. However, a federal judge has filed an injunction to suspend him from the position on the grounds it could interfere with an ongoing judicial investigation. Lula was charged with money laundering and fraud a week earlier.
As a member of government, he would be immune from prosecution by all but the Supreme Court. Which leads to another problem for Rousseff… Anger has been fuelled by the release of a taped conversation in which the president is alleged to have offered Lula the post to protect him from legal action.