Political ping pong in Brazil: Rousseff to appeal injunction against Lula
Comments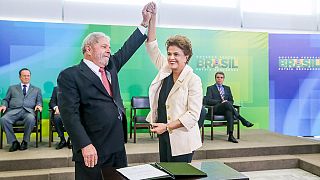 As pro- and anti-government protests rage on the streets of Brazil, the game of political ping pong has been stepped up a notch.
The administration has vowed to appeal against an injunction by a federal judge suspending the appointment of President Dilma Rousseff's predecessor Lula da Silva as her chief of staff.
Brazil's Lula is sworn in as protests continue and judge tries to block appointment: https://t.co/IcabgXhkQLpic.twitter.com/Df5j5iYwSW

— Reuters Top News (@Reuters) March 17, 2016
The judge, who is openly anti-Rousseff, claims Lula's taking office could derail an ongoing judicial investigation.
The president has maintained her loyalty to her mentor Lula, despite his being charged with money laundering and fraud a week earlier.
"Today, Brazil is facing economic and political hardship," said Rousseff. "At this moment I cannot and I will not do without anyone. On this occasion we must stay together for Brazil, myself, Lula, our political base, our social base and even the opposition, which also wants the best for this country."
As a member of government, he would be immune from prosecution by all but the Supreme Court.
Anti-government anger has been fuelled by the release of a taped conversation in which Rousseff is alleged to have offered Lula the post to protect him from prosecution.
The political situation in Brazil has spiraled completely out of control - doubt anyone knows the ending https://t.co/kL2Ogo4ChN

— Glenn Greenwald (@ggreenwald) March 17, 2016