Pacers enjoy narrow win over Celtics
Comments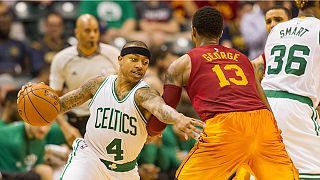 The Indiana Pacers downed the Boston Celtics on Tuesday night at Bankers Life Fieldhouse in Indianapolis.
The two teams evenly exchanged blows in the first quarter which ended 20 points apiece.
The hosts started to pull away in the second and by half time were four points clear of their rivals.
That four point lead was turned into a four point deficit midway through the third thanks mainly to Boston point guard Isaiah Thomas but Indiana bounced back quickly to take a narrow lead into the fourth and final quarter.
After a brief Celtics fightback, Indiana took the lead for good with 8 minutes left and never looked back.
Paul George finished the night with a game-high 25 points as Indiana won through 103-98 to remain seventh in the Eastern Conference and chasing that all important play-off spot with 15 games of the regular season left.